Journal
Kharkov University Vestnik

Mathematics,
Applied Mathematics and
Mechanics

Editor-in-Chief: Prof.
V.I. Korobov
---





---
Indexed/Abstracted in Zentralblatt MATH ( since 1999 )

To search in Zentralblatt MATH , use "Visn. Khark. Univ., Ser. Mat. Prykl. Mat. Mekh." as "Source"

Some issues could be found at The Vernadsky National Library of Ukraine, Kiev (in Ukrainian).

The print publication has been recorded permanently in the ISSN Register as follows:
ISSN 2221-5646
Key title: Visnik Harkivsíkogo nacionalínogo universitetu imeni V.N. Karazina. Serii: Matematika, prikladna matematika i mehanika
Abbreviated key title: Visn. Hark. nac. univ. im. V.N. Karazina, Ser.: Mat. prikl. mat. meh.
---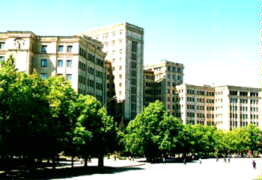 Address
Faculty of Mechanics and Mathematics
Kharkov University
4, Svobody sqr.,
Kharkov, 61077
Ukraine
Tel: + 38 057 7075135
E-mail: vestnik@univer.kharkov.ua , vestnik-khnu@ukr.net (main)
Web-page: http://vestnik-math.univer.kharkov.ua

---
[Vestnik image]
Ukrainian web-page (under construction).
---